Your own "SAFE AND BEAUTIFUL"
4-wheel helmet
■

Support from our shops ・You can choose the actual product in your hands.
・You can also check the sizing on the actual product.
・Many white helmets also in stock

■

One of a kind, unique to you ・Unique, one-of-a-kind
・Beautiful original design
・You can take it home on the spot
■

Support from our shops ・You can choose the actual product in your hands.
・You can also check the sizing on the actual product.
・Many white helmets also in stock

■

One of a kind, unique to you ・Unique, one-of-a-kind
・Beautiful original design
・You can take it home on the spot
ABOUT
What is Helmet Paint Tokyo?
Painted helmets of the original design are on display and for sale.
The concept of the shop is that "You can see the only one painted helmet in the world and take it home immediately".
In our showroom in Minato Ward, Tokyo, you will find a wide range of beautifully painted helmets (only one of each design) made by artisans who have agreed with our concept of "Turning helmets into works of art".
How much is the price?
Our showroom is used by a wide range of people, from hobbyists who mainly enjoy driving events to professional race drivers. For this reason, we have a wide range of price ranges to choose from.
We often have customers who purchase a normal model white helmet for practice runs on their first visit, and on their second visit purchase a custom model with an original design, saying that they want to wear it when their driving skills have improved.
Who is the designer?
The designers are top-notch artisans and painters from all over Japan with first class skills, who have created official helmets for Formula 1 and SUPER GT drivers, professional boaters and Olympic athletes.
In recent years, we have been joined by award-winning painters from the Auto Salon and Hot Rod Custom Show, as well as painters who specialise in innovative designs for Harleys, street cars and more, and so we are expanding the range of our designs.
Our showroom is located in Shibaura, Minato-ku, Tokyo. Please come and see our beautiful helmets.(We are often out of town for circuit and sales activities. If you would like to visit us, please make an appointment.)
Why do you
have a showroom?
Unfortunately, the true beauty of a helmet cannot be conveyed in a photograph.
Its brilliance, its refined form, its individual taste, its depth, its heat, its unique atmosphere and its view of the world. All of these qualities can only be conveyed face-to-face.
We invite you to experience the real thing with your eyes and your brain.
DESIGN
Choice of Designs
The helmets we stock are one-of-a-kind designs created by our designers at Helmet Paint Tokyo and take months to make.
Come and see us and find your favourite pieces.
If you find a design and size you like, you can take it home straight away. Just in time for the race weekend!
Please note that we do not accept custom paintings.
SHOWROOM
Tokyo Showroom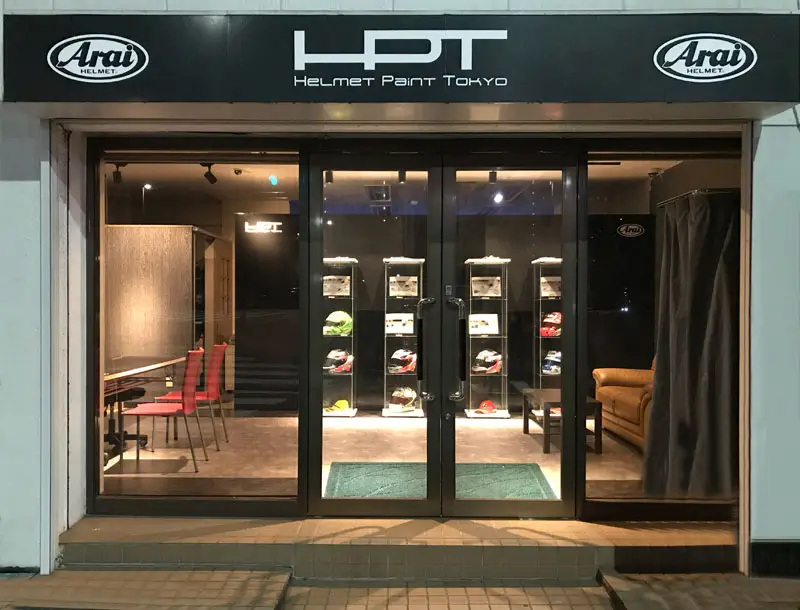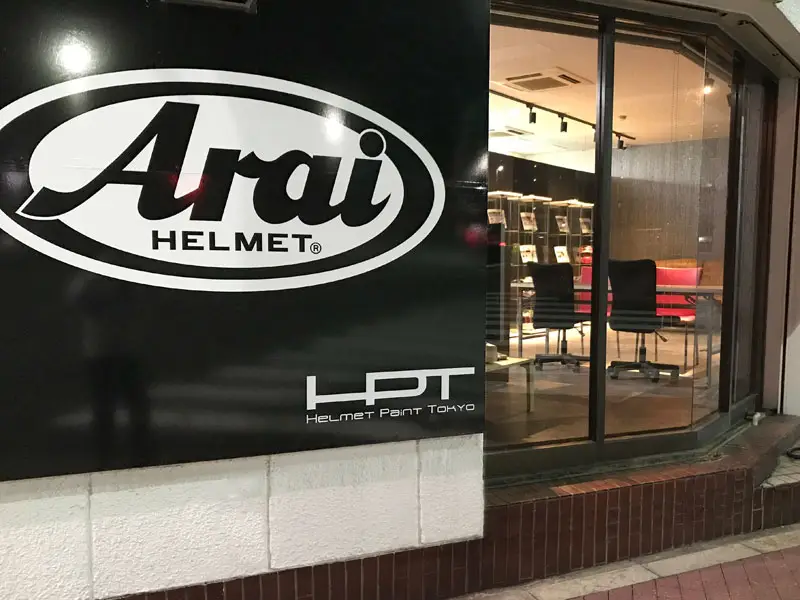 If you would like to know more about Arai helmets, or if you would like to have a chat with one of our motorsport enthusiasts, we would be happy to help you. Please come and have a look at our original designs and painted helmets.
Our Tokyo showroom is located in Shibaura, Minato-ku, 12 minutes walk from Tamachi station.
You can drop in on your way home from work, or you can drive up. We will be at the foot of the Rainbow Bridge until 8pm.
Coin-operated parking available in front of our showroom.
1F Sakamoto Building, 2-8-8 Shibaura, Minato-ku, Tokyo 135-0023, Japan
Attn: Hara
Reservation
Opening hours: 12:00 - 20:00

We reserve the right to change our schedule at short notice, for example, if we are out on a circuit or on business. Please check our opening calendar before you visit us. If you do not have an appointment, we would appreciate it if you could make "Reservation".
CLOSED:Red dates on the calendar are our holidays.
MAP
SALE
List of Products for Sale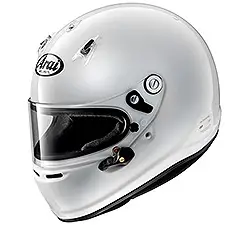 Various credit cards are accepted.
COMPANY
About Us
Company name
MARZ PROJECT Ltd.
(マーズプロジェクト株式会社)
Establishment
25 April 2012
President and Representative Director
KAIUN Arao
Business activities
Planning and management of motorsports
Motorsport participation
Training of human resources for motor sports
All business incidental to the above