GP-6 8859
GP-6 8859
Helmet For Racing GP-6 8859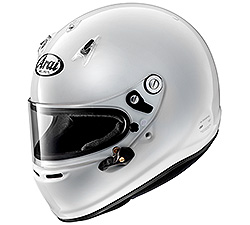 GP-6 8859
Go to purchase page

4 Pro spec【For 4-wheel racing】FIA approved
With the same shape of the cap as the F1 driver, and the same comfort at high speed and in the corners, the GP-PED ducts and various other ducts are included, making it the best model for 4-wheelers closer to the F1 specifications.

Specifications

Standard : SNELL SA/FIA8859
Cap : Super-cLc
For 4-wheel racing
Colour : White
Interior : Flame retardant・With emergence tab(Optional cheek pads can be adjusted)

Sizes

XS (Head measurement 54cm)
S (Head measurement 55cm-56cm)
M (Head measurement 57cm-58cm)
L (Head measurement 59cm)
XL (Head measurement 60cm-61cm)

Product Introduction

The Arai Helmet GP6 8859 is a full-face helmet for four-wheel drivers, approved to the latest SNELL SA standard and FIA 8859.

This pro-spec model uses the same shape cap as the GP-6RC used by F1 drivers, with a Super-cLc cap for improved lightness and impact resistance. Standard features include shield locking mechanism, removable cheek pads and M6 terminals for mounting HANS anchors (in rigid titanium). Recommended for all four-wheeled drivers, regardless of category, whether touring car or formula.

※Helmet anchors with M6 terminals are required for anchoring.